May 14th, 2016
|
A year ago today, I sat on my father's porch on Sugar Hill for two hours, content after a noontime meal of grilled hot dogs, Campbell's baked beans, and macaroni salad from Connie's Market. He liked to cook for me, and I always enjoyed the step-back-in-time warmth of eating off the well-worn melmac plates of my childhood. Cold well water washed down coconut washboard cookies. Life was good.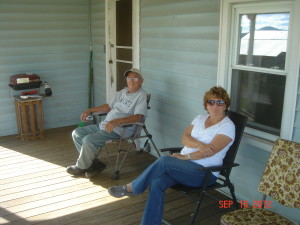 We let the conversation weave, wander, ebb and flow for a couple of hours. My father would say that at eighty-nine, he had solved the world's problems many times over from that old porch looking out at Tyler and Round Top mountains. We worked on a few more that day too.
His 90th birthday was coming up in June, and while not a world problem, it caused him great stress deciding how to celebrate this milestone. We settled on a picnic on his lawn, a milestone in itself – a party at his house for the first time in over fifty years. He wanted to be sure that his close neighbors were invited, along with old friends from his working days at the Wyalusing Hotel. As always, the discussion turned to food, but the menu remained undecided while sure to include homemade coconut cream pie and German chocolate cake (even though he didn't eat many sweets, or so he always claimed).
Party planned, we moved on. Should we cut down the overgrown lilac and spirea bushes in front of the porch? Maybe next year. Would Chesapeake ever pay for the gas they had been taking from the Joe well for the past eight months? Probably, but it's a long time to wait when you're almost ninety. How's Tyler doing? Good, enjoying city life, but coming home for a visit on Friday. Are you using the step rails up to the porch? No, trying not to! I sure miss Aunt Marie, don't you? Yeah, it's been three weeks today since the funeral.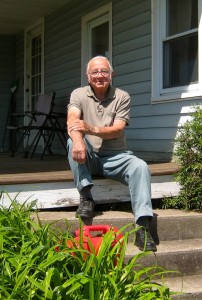 We lingered on, talking longer than usual, waving at the few cars that passed and watching the hummingbirds flit in and away. And then, two days later, my father suffered a stroke, which took his voice away from him; which took his voice away from me. His mind remains sharp, but there will be no more long talks on the porch. Our "talks" now are mostly one-sided, frustrating for him since he can't express himself fully. His fiercely independent life came crashing down that day a year ago when the stroke took him to the floor.
Can we expect to live life to the fullest until our dying breath? Not always, as my father knows. It's clear that his sense of injustice about his situation is strong despite his age. I'm grateful that he proved stronger than the stroke, but carefully refrain from asking if he agrees. As my husband and I ask each other once in a while, "What's it all about?" Perhaps, we'll never really know, but it would be a good question to ask again on another fine day in May on that Sugar Hill front porch.