Dec 6th, 2014
|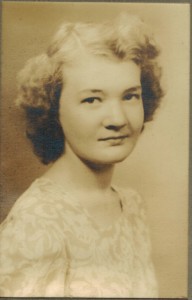 My mother surrendered to lung cancer in June, but spent three more months under its brutal control before its final release. In July, while her mind was still good, I tried a couple of times to talk about what was coming, but she teared up and shook her head. So, we passed each day together as though there would always be one more day to say goodbye.
"I'll be back as soon as I get the tomatoes canned," I told her that last morning. When the call came later in the day, I turned the burner off and pulled my jacket on, knowing there would be no more days for a last goodbye. I'm hopeful that her final journey took her home.
With Love, Always
I rode my bike too fast on the gravel road below our house
So you picked me up and dried my tears
I watched the lightning flash and waited for the thunder's crash
And you held me close and calmed my fears
I cried because of something someone said or did or didn't do
And you always knew just what to say
I grew up and away and apart to find a life of my own
So you let me go, with love, always.
And then so many years later, we found ourselves repeating
An echo of the past, repeating …
You walked across the room and fell, so weak and weary
So I picked you up and dried your tears
You asked, what am I going to do, what am I going to do?
And I held you close and calmed your fears
You cried, I think, because you couldn't voice the things you'd left unsaid
And I prayed to know just what to say
You grew away and apart with each passing day, to find a new life
So I let you go, with love, always.
For Doreen W. Potter 7/8/1930 – 9/10/2014
With love, always from her daughter, Diane Potter Seymour