Oct 18th, 2011
|
Image by dok1

Yes, Americans can produce products that are both good and cheap, and I mean cheap in a good way!  I recently stopped for the first time at Hilsher's General Store in Port Trevorton, along the Susquehanna River about eight miles south of Selinsgrove.  I've gone past it hundreds of times, never realizing what a gem I was missing.
In one stop, you can eat homemade chicken and dumplings, stock up on local cheeses, buy a candle or knickknack for your mother-in-law, pick up those hard-to-find nuts and bolts for that job you've put off, buy muck boots for monsoon weather in Pennsylvania, pick out paint for your patio, and prepare for fall with feed to lure the deer in and buy a grinder and seasonings in hopes that the feed does its job.
Hilsher's wraps a wonderland of miscellaneous goods around its Ace Hardware core.  It's a Walmart before Walmart became too big, too predictable, and too much "Made in China".  You can wander though Hilsher's and find products and brands that you haven't seen in years or have never seen.  I found two new-to-me brands of "Made in the USA" products and wondered why they aren't on Walmart shelves.
Rada Cutlery knives – I bought a parer, a tomato slicer, and a bread knife.  They are sharper than any knives I've ever owned – sharper than my German-made blades and definitely sharper than the Farberware and Chicago Cutlery knives, which Walmart brings to us from Asia. Competitively priced from $5.50 to $9.00, give the Rada Made in the USA products a try.
Onguard Industries muck boots – with the recent flooding in the northeast, I was just one of many trying to find rubber boots to wear while hauling mud out of basements.  I had given up finding boots not made in Taiwan or China until I happened into Hilsher's.  I was so excited to see "Made in the USA" stamped on the side of the boots; I bought three pairs and surprised my husband and father.  We're all amazed at how comfortable, well made, and "cheap" they are at only $16.99 a pair.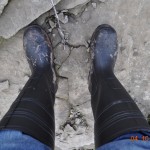 It's kind of sad that finding something made in the USA is such an exciting occasion.  Rada Cutlery and Onguard Industries prove that companies in the U.S. can make high quality products at competitive prices.  Our biggest challenge is to find these companies and products.  Check out these websites (Oh, and check out Hilsher's General Store too!):
Written with my friend Missy B. in mind.  Keep up the good fight!